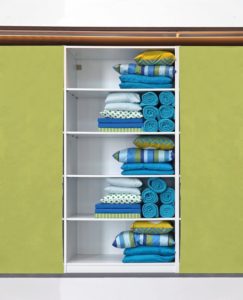 Like me, have you decided that this is the year you're finally going to get your home organized?
Last week we completed the "Amazing Kitchen Pantry Cleanout".  I have always used bins in my kitchen pantry to keep things neat, but I did purchase several new clear plastic cereal keepers to help clear out the clutter of boxes and I have to admit that it looks much better!
Well, if you made it through the 10-Day Simplification Challenge and completed the "Amazing Kitchen Pantry Cleanout" phase, then you are probably ready to take on this week's task – Organizing the Linen Closet.
I will be honest, this week's task was easy for me as I do have a touch of OCD.  I fold all of my sheets and towels following a certain pattern which automatically makes storing them neatly a breeze.
Here is a video that I found on how to fold a fitted sheet the way I do.  Once I finish with the fitted one I then fold the flat sheet the same way but, before folding it into thirds, I lay the fitted sheet at one end (topped by the folded pillowcases) and then fold the entire stack into thirds which creates a neat package.  This way, they sit neatly on a standard linen closet shelf.
I also fold my towels following a certain pattern and I found a video to help you with that as well.
This article regarding organizing your linen closet offers some great tips too.
HAPPY ORGANIZING! Feel free to drop me a line to share your successes (I'd love to see photos if you have them) or ask a question.
Please feel free to call or text me at 404-710-0204 (or drop me an email) if I can provide you with more information about this article, or if I can assist you with buying or selling your Forsyth County real estate.
This Cumming GA Real Estate blog is hosted by Gayle Barton of BERKSHIRE HATHAWAY HomeServices Georgia Properties.
I specialize in Real Estate sales in the following Forsyth County and North Fulton County cities: Cumming, Suwanee, Alpharetta, Milton and Johns Creek. Other north metro-Atlanta suburbs are serviced by request, so please call.
Gayle Barton Forsyth County Real Estate | Cumming GA Real Estate | Mountain Crest Homes For Sale
Gayle Barton Cumming GA Real Estate | Forsyth County Real Estate
Disclaimer: Information contained in this post is deemed reliable on the date of publication, but it is not guaranteed and it is subject to change without notice. All content, including text, original art, photographs and images, is the exclusive property of Gayle Barton and may not be used without expressed written permission.