As a real estate agent I am often asked for referrals to local business and service providers. With many of my clients being new to the area, I have always kept a preferred vendor list to share with them.
However, with the advent of the internet I decided that the best way to provide my clients (and others) with this information, and support the local companies and service professionals who have provided me, my family and friends with excellent service, was to feature their local business on my website.
The opinions shared here are solely my own and no incentive (financial or otherwise) has been received.
_________________________________________________________________________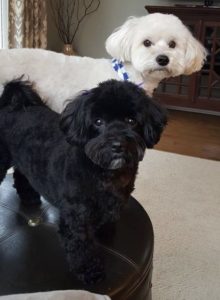 Fran and Friends Pet Grooming
http://cummingpetgrooming.com
3020 Old Atlanta Rd.
(770) 292-9100
Looking for a new dog groomer in Cumming, GA?   Well, I have a suggestion for you!
Our sweet pups, Tebow & Roxie, have been visiting Fran every month for over 5 years and we are so happy with the results.  Not just the way he looks, but the way he feels!
Highly recommended by a friend, we find Fran to be very friendly and kind to the pets and owners as well.
Roxie can hold her own, but our Tebow is very sweet and has a gentle temperament that we want to sustain.   I have noticed that many shops use muzzles and straps to hold the dogs if they don't "behave" and I was afraid that this treatment might make him mean or snappy.   While speaking with Fran about this on our 1st visit she guaranteed me that a dog that showed fear (of the nail file in our case) would be held or comforted by an assistant, if need be – not manhandled or mistreated.
Our babies always come out looking adorable, and acting as sweet as ever, so I believe that we have definitely found our groomer for life.
Hope you try her out!
This Cumming GA Real Estate blog is hosted by Gayle Barton of BERKSHIRE HATHAWAY HomeServices Georgia Properties.
I specialize in Real Estate sales in the following Forsyth County and North Fulton County cities: Cumming, Suwanee, Alpharetta, Milton and Johns Creek. Other north metro-Atlanta suburbs are serviced by request, so please call.
Gayle Barton Forsyth County Real Estate | Cumming GA Real Estate | Mountain Crest Homes For Sale
Gayle Barton Cumming GA Real Estate | Forsyth County Real Estate