AtlantaTrails.com's choices for the 10 Best North Georgia Hiking Trails plus one of my own!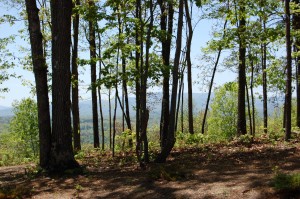 Well, fall is nearly upon us and at this time of year many of us turn to thoughts of heading to the mountains for hiking and camping … Okay, I actually think of a cozy cabin with a cup of hot cocoa following my hike, but to each his own. 🙂?
There are so many great options in North Georgia to choose from for hiking and camping so I thought this article might be of great interest to my readers.
In an effort to provide full disclosure, having lived in Blue Ridge for 9 years I do tend to favor North Georgia, but I'm sure that you can find wonderful options in other areas of the state as well. But, this is my favorite!
Here is my list of links to my favorite spots: for longer hikes
Appalachian Trail: Three Forks to Long Creek Falls
The Appalachian Trail: Three Forks To Springer Mountain
Want even more choices or need to know what to pack?
Here is a link to the full article>>
PERSONAL FAVORITE for those with young kids. (This is where we always went to provide visiting "cousins" with a mountain hiking adventure.)
Benton MacKaye Trail – Falls Branch Falls– This is a great little hike for those with kids: This hike offers an easy walks to a double waterfall with mountain laurel and rhododendron growing along the trail and creek bank. The hike to the waterfall is about 30 minutes round trip. Directions: From Blue Ridge, follow Aska Road for eight miles. Turn right on Stanley Creek Rd. (Toccoa Riverside Restaurant is on the left). Follow Stanley Creek Rd for 3.1 miles to where the Benton Mckaye turns into the woods on the right marked by a double diamond on a tree beside the road. Follow the trail up the creek one quarter mile (path cuts off to right) to a viewing platform at the falls.
The best thing about these trails?  They are just 1.5 hours north of Forsyth County so an easy day trip can be made, but I recommend staying for the weekend and checking out the cool historic town of Blue Ridge, GA if you have time.

This Cumming GA Real Estate blog is hosted by Gayle Barton of BERKSHIRE HATHAWAY Georgia Properties.
Thinking of selling your home? I have a passion for Real Estate and love to share my marketing expertise!
I specialize in Real Estate sales in the following Forsyth, North Fulton and West Gwinnett cities: Cumming, Suwanee, Johns Creek, Alpharetta, Duluth, Sugar Hill, Milton, and Roswell.
Please feel free to call or text me at 706-455-0180 (or drop me an email) if I can provide you with more information about this article, or if I can assist you with buying or selling your South Forsyth County real estate.
Cell: (706) 455-0180 ~ Office: 770-844-8484 ~ Email: gaylebarton@inbox.com
Blog Topics: customer review, client review, customer comments, customer reviews, client testimonial, customer testimonial
Disclaimer: Information contained in this post is deemed reliable on the date of publication, but it is not guaranteed and it is subject to change without notice. All content, including text, original art, photographs and images, is the exclusive property of Gayle Barton and may not be used without expressed written permission.
Cumming GA Real Estate information provided by blog is hosted by Gayle Barton of BERKSHIRE HATHAWAY Georgia Properties.
Gayle Barton – South Forsyth Real Estate | Cumming GA Real Estate
Gayle Barton – South Forsyth Real Estate | Cumming GA Real Estate