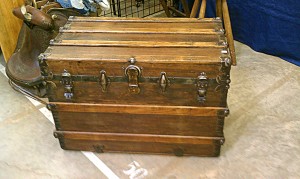 Are you always on the hunt for a unique decorative item or antique for your Cumming GA home?
Have you scoured all of the local antique shops with no luck?  Well, maybe you should check out the Lakewood 400 Antiques Market!
Held on the 3rd weekend of every month, this HUGE antique market is easy to navigate and always provides tons of options no matter what I am looking for.
With over 45,000 square feet of showroom space, full-service concessions, 600 parking spaces and ample restroom facilities, easy load-in and load-out the $3.00 admission is a steal!
On my last visit I snagged this great chest for only $200 and it will make a great coffee table in our cabin in Gatlinburg.
Antiques Market INFO:
9am – 5pm Friday
9am – 6pm Saturday
10 am – 5pm Sunday
$3 Admission Friday – Sunday       (good all weekend) (children under 12 free)
I am currently on hunt for an antique sideboard for my dining so you may just see me there!
Please feel free to call (866-413-1781) or drop me an email if I can provide you with more information about this article or if I can assist you with buying or selling your Cumming GA real estate.
This South Forsyth Real Estate blog is hosted by Gayle Barton of ERA – The Real Estate Connection.
Cell: (706) 455-0180  ~  Office (678) 456-8066   ~   Email:  gaylebarton@inbox.com