My Cumming GA Homebuyers Were Featured in the AJC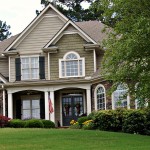 I loved opening up the AJC Homefinder section this week and seeing my buyers featured there!
This was a fun couple to work with as they were transferring in from North Carolina and not at all familiar with our area. The first step was to find out what was important to them as this area provides everything from new construction (smaller lots and fewer trees… but BRAND NEW!) to mature neighborhoods with large lots tons of trees but homes that might require a bit of updating.
I sent over a huge list of properties that ran the gambit and allowed them to openly critique each one. This allowed me to learn their preferences so I could target neighborhoods and then specific homes with their needs in mind.  It was evident, right away, that we would be looking in more mature neighborhoods as a larger, private lot was a "must have".
As they were coming in from out of town to search for their new home (and traveling with an 8 week old baby), we knew that we had a very short timeframe in which to look so we narrowed the properties down to a manageable twelve to view.
Just before they arrived, a home hit the market that I knew would be perfect so I threw that one in too.  And… you guessed it!  It was the one they loved! READ MORE>>>
This South Forsyth Real Estate blog is hosted by Gayle Barton of BERKSHIRE HATHAWAY HomeServices GEORGIA PROPERTIES
Please feel free to call (866-413-1781) or drop me an email if I can provide you with more information about this article or if I can assist you with buying or selling your Cumming GA real estate.
Cell: (706) 455-0180 ~ Office (770) 844-8484 ~ Email: gaylebarton@inbox.com
Disclaimer: Information contained in this post is deemed reliable on the date of publication, but it is not guaranteed and it is subject to change without notice. All content, including text, original art, photographs and images, is the exclusive property of Gayle Barton and may not be used without expressed written permission.
Author: Gayle Barton – Cumming, GA Realtor
Gayle Barton – South Forsyth Real Estate
Topics: Home Buyers, AJC Homefinder, Homes for sale in Cumming GA,  Homes for sale in South Forsyth County, South Forsyth County real estate, Cumming GA real estate
Prudential Georgia Realty is now BERKSHIRE HATHAWAY HomeServices GEORGIA PROPERTIES