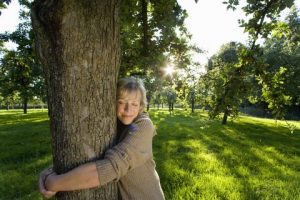 Okay, I admit it…. I'm a bit of a tree hugger.
When I first moved to Georgia in 1989 (from my beloved, but virtually treeless, Texas) one of the things I loved most about the area were the roadsides filled with trees.  I enjoyed being surrounded by greenery as I went about my daily tasks – even on the main highways.
Unfortunately, over time, HWY-285 and HWY-75 were expanded and the trees were removed leaving the devastated roadsides littered with billboards (what I call "litter on a stick").
I prayed that GA-400 would never face the same fate, but about two years ago a huge section of trees were removed between exits 12 and 13 to make way for three huge, ugly billboards and my heart just broke.  With all of the new construction underway in our area, trees are being sacrificed on a daily basis, but this was just too much!
I was so thankful when I heard that a ruling had been made that the company and landowner responsible for this are being forced to replace at least a portion of the trees.  Will they be the beautiful, mature trees that were removed?  Of course not! But I do hope that it's enough to keep other companies and landowners from trying to skirt the rules just to line their own pockets.
Now, if we can just put a stop to developer clear cutting….
This Cumming GA Real Estate blog is hosted by Gayle Barton of BERKSHIRE HATHAWAY Georgia Properties.
I specialize in Real Estate sales in the following Forsyth County, North Fulton County and East Cobb cities: Cumming, Suwanee, Johns Creek, Alpharetta, Duluth, Milton, and Roswell. Other areas are serviced by request.
Gayle Barton South Forsyth Real Estate | Cumming GA Real Estate
Gayle Barton Cumming GA Real Estate | South Forsyth Real Estate