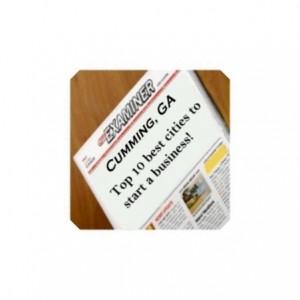 According to James McCoy, president and CEO of the Cumming-Forsyth County Chamber of Commerce, Cumming has been named as one of Georgia's top 10 best cities to start a business.
He reported during the city's June 16 Council meeting that "Some of Georgia's biggest cities – Atlanta, Columbus, Augusta and Savannah – have the largest number of businesses in the state, but the most profitable businesses are in the suburbs and smaller cities," citing a recent report published by personal financial website NerdWallet.com.
According to NerdWallet.com's website, the organization helps consumers make decisions about education, finance, health, investing and shopping. The website features online tools that provide research and experts "to help consumers take back control of their choices in a marketing-driven, trillion-dollar industry."
During his comments, McCoy noted that Cumming is listed as the 6th best place to start a business and that the top 10 Georgia cities in the report share several similarities.
"Six cities in the top 10, each with a population under 60,000, boast higher average revenue per business than the state's most populous cities," the report states. "All of the top 10 cities are along major transportation routes, which is a plus for businesses shipping products around the region or country. Proximity to Atlanta doesn't hurt either."
As locals already know, the report states that location is one of Cumming's strengths, as is the city's high number of already-established businesses.
"Cumming is one of the smallest cities on this list, but it has more businesses per 100 people than any place in this study," the report says. "In fact, Cumming has almost as many businesses (5,251) as it does residents (5,504). Located along the bustling Georgia 400 corridor, businesses in Cumming benefit from the area's transportation and technology infrastructure.
Also highlighted in the report is the fact that the Cumming-Forsyth County Chamber of Commerce's Small Business Services Center offers several programs, such as coaching and roundtable discussions, to help local business owners start and grow their companies.
Other cities, listed in order of their rank, include, Alpharetta at No. 1, followed by Doraville, Vinings, Garden City and Cumming. Those ranked 7 through 10 are Norcross, Jesup, Carrollton and Waycross.
CONGRATULATIONS CUMMING BUSINESS LEADERS on a job well done!
This Cumming GA Real Estate blog is hosted by Gayle Barton of BERKSHIRE HATHAWAY Georgia Properties.
Thinking of selling your home? I have a passion for Real Estate and love to share my marketing expertise!
I specialize in Real Estate sales in the following Forsyth, North Fulton and West Gwinnett cities: Cumming, Suwanee, Johns Creek, Alpharetta, Duluth, Sugar Hill, Milton, and Roswell.
Please feel free to call or text me at 706-455-0180 (or drop me an email) if I can provide you with more information about this article, or if I can assist you with buying or selling your South Forsyth County real estate.
Cell: (706) 455-0180 ~ Office: 770-844-8484 ~ Email: gaylebarton@inbox.com
Blog Topics: Cumming, GA and Forsyth County area information and current affairs.
Disclaimer: Information contained in this post is deemed reliable on the date of publication, but it is not guaranteed and it is subject to change without notice. All content, including text, original art, photographs and images, is the exclusive property of Gayle Barton and may not be used without expressed written permission.
Cumming GA Real Estate information provided by blog is hosted by Gayle Barton of BERKSHIRE HATHAWAY Georgia Properties.
Gayle Barton – South Forsyth Real Estate | Cumming GA Real Estate
Gayle Barton – South Forsyth Real Estate | Cumming GA Real Estate