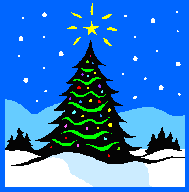 Okay, you had a Merry Christmas, but what do you do with the tree?? Recycle it of course!
The following Forsyth County, GA locations will be accepting live Christmas trees for recycling.
Accepting trees ONLY January 7, 9 a.m. – 4 p.m.
 (Please, no trees at this site after 4 p.m. on January 7)
Home Depot – 1000 Market Place Boulevard 
Home Depot – 2635 Peachtree Parkway 
Vickery Creek Elementary – 6280 Post Road
Accepting trees December 26 through January 28
Tolbert Street Recycling Convenience Center – 351 Tolbert Street
770.781.2176, open Monday – Saturday, 7:30 a.m. – 5 p.m.
Old Atlanta Recycling Convenience Center – 3678 Old Atlanta Road
770.205.3010, open Monday – Saturday, 7:30 a.m. – 5 p.m.
Coal Mountain Recycling Convenience Center – 3560 Settingdown Road
770.781.2071, open Monday – Saturday, 7:30 a.m. – 5 p.m.
Please note that all three recycling convenience centers will be closed Monday, January 2 in observance of New Year's Day and Monday, January 16 in observance of Martin Luther King Jr. Day.
Free tree seedlings and vegetable seeds will be available while supplies last on Saturday, January 7, 2012 at all sites beginning at 9 a.m. on a first come, first served basis.
If you are interested in receiving mulch created by the tree recycling, visit www.keepgeorgiabeautiful.org and click on the chipper icon in the center of the page for more information. Wood chips are also available for county residents near the Forsyth County Roads and Bridges facility on County Way. Interested residents are responsible for loading and hauling their own wood chips. 
For more information visit www.forsythco.com or call Keep Forsyth County Beautiful at 770.205.4573.
Please feel free to call (866-413-1781) or drop me an email if I can provide you with more information about this blog post or if I can assist you with buying or selling your Cumming GA real estate.
This South Forsyth Real Estate blog is hosted by Gayle Barton of ERA – The Real Estate Connection.
Cell: (706) 455-0180 ~ Office: (678) 456-8066 ~ Email: gaylebarton@inbox.com