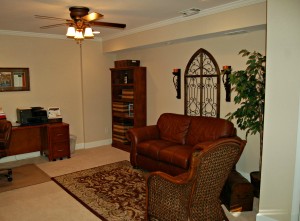 I had a service appointment set up for my own home today so I was working out of my home office.
I told the service technician that I'd be in the basement if he needed me (most likely on the phone with a client, so please enter quietly) and headed downstairs.  A bit later he came down and as he approached the office door he saw the sofa and asked "So, are you a psychiatrist?"  I burst out laughing and replied "Actually, I'm a Realtor.  But, somedays it really does feel like the same thing!"
I have been a real estate agent for more years than I usually care to broadcast (let's just say that in my first card photo I had REALLY big hair…), and I truly love my job!  I enjoy each and every  opportunity I'm given to serve a homebuyer or seller and I happily provide my clients with advice, support…. sometimes even a shoulder to cry on.
People are usually buying or selling due to a change in their life and that change may not always be a comfortable one.  I love the fun, joyful times that my job offers when I help a family find the perfect home or move on to another stage of life.  But, not matter what the circumstance, I do my best to keep every transaction on an even keel and think of the support I provide as a part of what I consider to be "personalized service".
I love that every day is different… but, I can honestly say on days like today… you just can't make this stuff up! 🙂
This Cumming GA Real Estate blog is hosted by Gayle Barton of BERKSHIRE HATHAWAY Georgia Properties.
Thinking of selling your home? I have a passion for Real Estate and love to share my marketing expertise!   I specialize in Real Estate sales in the following Forsyth, North Fulton and West Gwinnett cities: Cumming, Suwanee, Johns Creek, Alpharetta, Duluth, Sugar Hill, Milton, and Roswell.
Please feel free to call or text me at 706-455-0180 (or drop me an email) if I can provide you with more information about this article, or if I can assist you with buying or selling your South Forsyth County real estate.   Cell: (706) 455-0180 ~ Office: 770-844-8484 ~ Email: gaylebarton@inbox.com
Blog Topic: funny real estate story, real estate humor
Disclaimer: Information contained in this post is deemed reliable on the date of publication, but it is not guaranteed and it is subject to change without notice. All content, including text, original art, photographs and images, is the exclusive property of Gayle Barton and may not be used without expressed written permission.
Cumming GA Real Estate information provided by blog is hosted by Gayle Barton of BERKSHIRE HATHAWAY Georgia Properties.
Gayle Barton – South Forsyth Real Estate | Cumming GA Real Estate
Gayle Barton – Cumming GA Real Estate | South Forsyth Real Estate