Ideas for Staging Your Backyard without Breaking the Bank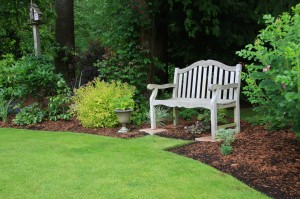 Most home sellers understand the need for staging the interior of their house for sale, but many underestimate the value to staging their outdoor areas.
When your home is on the market you are selling a lifestyle. You want to show prospective buyer that the property enjoyable to be in and easy to maintain.
You want them to envision themselves lounging there or entertaining friends and that's not always easy to do!
Do you have a nice deck or patio… a pretty view?  Show their true value – enhance them to make them even more appealing to a buyer.
If your yard and outdoor areas look like they are unmanageable, a buyer who does not  want to "take on a project" will be less likely to write an offer.  Show them just how much you love and enjoy your home and they will expect to as well.
• Clean, clean, clean… everything in sight.
• Pressure washing your deck or patio can make it look fresh and almost new again.
• Discard anything that is broken or that you know will never be used. Want to take it with you, go ahead and pack it up now.
• Tidy up hoses and lawn care equipment
• Fill empty pots and baskets with colorful, low maintenance plants or flowers
• Touch up paint around the door area
• Put out a fresh "welcome" mat
• Repair anything that looks dirty, old or worn out (especially outdoor furniture)
I have wrought iron furniture on my patio that gets a spritz of flat black paint every year to keep it looking fresh, but I had no idea that you can actually spray plastic furniture too!
Do you have plain white (or not so white after a few years of use) plastic chairs on your deck or patio?  Bring them back to life and give them a whole new personality with a coat of plastic-fusion paint that you can buy at your local home improvement store!
Oh, and don't forget to replace the faded, worn out seat cushions with new, colorful ones.
This Cumming GA Real Estate blog is hosted by Gayle Barton of BERKSHIRE HATHAWAY HomeServices Georgia Properties.
I specialize in Real Estate sales in the following Forsyth County, North Fulton County and East Cobb cities: Cumming, Suwanee, Johns Creek, Alpharetta, Duluth, Milton, and Roswell. Other areas are serviced by request.
Gayle Barton South Forsyth Real Estate | Cumming GA Real Estate
Gayle Barton Cumming GA Real Estate | South Forsyth Real Estate