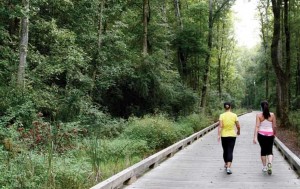 In a report compiled by the Robert Wood Johnson Foundation and the University of Wisconsin Population Health Institute, which compares the health of nearly every county in the nation, Forsyth County has retained its title as the healthiest county in Georgia for the 3rd year in a row!
 It is easy to see why that may be. In addition to the numerous paid exercise facilities found throughout the county, significant local financial support of county recreation centers, parks and trail systems, such as the greenway, which are provided through our county taxes provide an easy and inexpensive way for families to exercise.
This South Forsyth Real Estate blog is hosted by Gayle Barton of BERKSHIRE HATHAWAY Georgia Properties
Please feel free to call (866-413-1781) or drop me an email if I can provide you with more information about this article or if I can assist you with buying or selling your Cumming GA real estate. 
Cell: (706) 455-0180  ~  Office (678) 456- 8066   ~   Email:  gaylebarton@inbox.com  
Disclaimer: Information contained in this post is deemed reliable on the date of publication, but it is not guaranteed and it is subject to change without notice. All content, including text, original art, photographs and images, is the exclusive property of Gayle Barton and may not be used without the expressed written permission.
Gayle Barton – South Forsyth Real Estate | Cumming GA Real Estate
Gayle Barton – Cumming GA Real Estate | South Forsyth Real Estate