Looking fun things to do with the kids in Forsyth County, GA?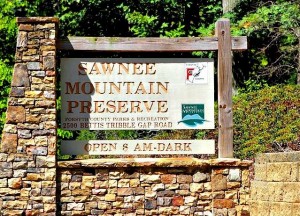 Cumming, GA is home to the Sawnee Mountain Preserve which offers over 3 miles of wooded trails that meander past abandoned gold mines (which were dug after the 1829 gold rush) and overlooks the beautiful North Georgia Mountains. Peaks of this ridge actually reach 300 feet higher than Stone Mountain making it one of the highest spots in Metro Atlanta.
All of Sawnee Trails are for foot traffic only (walkers, runners and hikers) and are designed for hikers of all levels. View Map
The main trail, called the Indian Seats Trail, runs through the Preserve with the Yucca Trail and Eaglet Trail serving as short connection trails. All trails connect and are part of the long range trail system planned for Sawnee Mountain.
Don't miss the observation deck which sits at the top of the Indian Seats Trail (approximately 1680ft). The Indian Seats, which are a natural rock formation at the top of the trail system, are believed to have used by Native Americans for ceremonial purposes and offer a beautiful view of the North Georgia Mountains
Sawnee Mountain Preserve Visitor Center Hours: Monday – Saturday 8:30 AM – 5:00 PM
Trail Hours: November – February 6:00 AM-7:00 PM March – October 6:00 AM-9:30 PM
Admission is free of charge.
Please note that pets are not allowed in the Preserve or on the trails
There are two parking areas with trailhead access:
SMP Visitor Center:
4075 Spot Road, Cumming GA 30040 (770-781-2217)
and
2500 Bettis Tribble Gap Rd.
This Cumming GA Real Estate blog is hosted by Gayle Barton of BERKSHIRE HATHAWAY Georgia Properties. Please feel free to call or text me at 706-455-0180 (or drop me an email) if I can provide you with more information about this article, or if I can assist you with buying or selling your South Forsyth County real estate.
Cell: (706) 455-0180 ~ Office: 770-844-8484 ~ Email: gaylebarton@inbox.com
Thinking of selling your home? I have a passion for Real Estate and love to share my marketing expertise!
I specialize in Real Estate sales in the following Forsyth, North Fulton and West Gwinnett cities: Cumming, Suwanee, Johns Creek, Alpharetta, Duluth, Sugar Hill, Milton, and Roswell.
Blog Topics: Sawnee Mountain Preserve, sawnee mountain preserve, fun things to do in Forsyth County GA, fun things to do with kids in Forsyth County GA, near Forsyth County GA, fun things to do in forsyth county ga, fun things to do with kids in forsyth county ga, near forsyth county ga,  hiking in forsyth county, hiking near forsyth county, fun things to do in Cumming GA, fun things to do with kids in Cumming GA, near Cumming GA, fun things to do in Cumming GA, fun things to do with kids in cumming ga, near cumming ga, hiking in cumming ga, hiking near cumming ga, hking trails, cumming ga, forsyth county ga
Disclaimer: Information contained in this post is deemed reliable on the date of publication, but it is not guaranteed and it is subject to change without notice. All content, including text, original art, photographs and images, is the exclusive property of Gayle Barton and may not be used without expressed written permission.
Gayle Barton – South Forsyth County Real Estate | Cumming GA Real Estate
Gayle Barton – Cumming GA Real Estate | South Forsyth County Real Estate