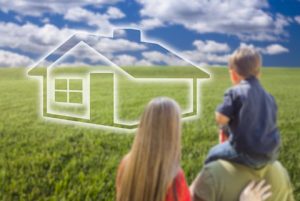 A very interesting report out from Bank of America shows a drastic change in the way first home buyers are looking at homeownership.  In the past, first-time homebuyers generally were most concerned with affordability for today knowing that they were buying for the short term with plans to move up in roughly 3 to 5 years as their family grew.
However, this new report shows that a large percentage of first-time homebuyers are now taking a more long-term approach by choosing to purchase a home designed to fulfill their perceived future needs. For most first-time homebuyers this decision will require them to wait a little longer in order to save a larger down payment, but it appears that many are willing to do so.
I was intrigued to see that over 35% the first-time homebuyers polled are planning to retire in the first home they purchase.  While this is an admirable goal, we all know that unexpected personal life changes and career transitions can alter even the best laid plans.  So, it will be interesting to see what percentage is actually able to live out their "start-to-finish" home dream.
It will also be interesting to see how this affects the current starter home market. Will these homes become less expensive as first-time buyer demand decreases or will they become a better option for investors driving the prices up?
Inquiring minds want to know…. but only the future will tell.

This Cumming GA Real Estate blog is hosted by Gayle Barton of BERKSHIRE HATHAWAY Georgia Properties.
I specialize in Real Estate sales in the following Forsyth County, North Fulton County and East Cobb cities: Cumming, Suwanee, Johns Creek, Alpharetta, Duluth, Milton, and Roswell. Other areas are serviced by request.
Gayle Barton South Forsyth Real Estate | Cumming GA Real Estate
Gayle Barton Cumming GA Real Estate | South Forsyth Real Estate