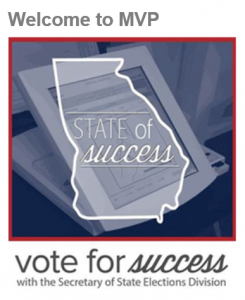 You know what they say… If you don't vote you can't complain!
Well, I can't tell you who to vote for, but I can certainly help you find out where to vote.
Not sure where you vote in Forsyth County?  This helpful link from the GA Secretary of State's office will provide you with all the information you need to find your voter registration status and polling location in Forsyth County GA. 
https://www.mvp.sos.ga.gov/MVP/voterDetails.do
EARLY VOTING: Open to All Forsyth County registered voters for 3 weeks (16 actual voting days).
Advance Voting Hours:
Weekdays, May 2-13: 8am to 6pm
Saturday, May 14 and Monday to Friday, May 16-20: 7am to 7pm
Advance Voting Locations: 
Cumming City Hall, 100 Main Street, Cumming, 30040
Hampton Park Library, 5345 Settingdown Road, Cumming, 30041
Midway Park Community Bldg, 5100 Post Road, Cumming, 30040
Sharon Springs Park Community Bldg, 1950 Sharon Rd, Cumming, 30040
The Advance Voting Hours for the Forsyth County Administration Building, 110 E. Main Street, Cumming, 30040 are 8am to 4:30pm for all dates listed above.
This Cumming GA Real Estate blog is hosted by Gayle Barton of BERKSHIRE HATHAWAY Georgia Properties.
Thinking of selling your home? I have a passion for Real Estate and love to share my marketing expertise!
I specialize in Real Estate sales in the following Forsyth, North Fulton and West Gwinnett cities: Cumming, Suwanee, Johns Creek, Alpharetta, Duluth, Sugar Hill, Milton, and Roswell.
Please feel free to call or text me at 706-455-0180 (or drop me an email) if I can provide you with more information about this article, or if I can assist you with buying or selling your South Forsyth County real estate.
Blog Topics:  where do I vote, voting locations, cumming ga, forsyth county, vote in cumming ga, vote in forsyth county, election precinct, polling place, my polling place, my voting location,Georgia,ga,voting,voter, election information,early voting,primary election,where do I go to vote in forsyth county, where do I go to vote in cumming ga, where do I go to vote, voting locations,poll locations,

Disclaimer: Information contained in this post is deemed reliable on the date of publication, but it is not guaranteed and it is subject to change without notice. All content, including text, original art, photographs and images, is the exclusive property of Gayle Barton and may not be used without expressed written permission.
Cumming GA Real Estate information provided by Gayle Barton of BERKSHIRE HATHAWAY Georgia Properties.
Gayle Barton – South Forsyth Real Estate | Cumming GA Real Estate
Gayle Barton – Cumming GA Real Estate | South Forsyth Real Estate