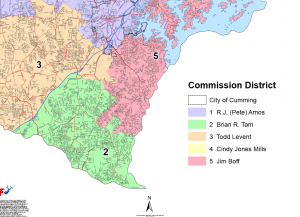 AN OPEN LETTER TO FORSYTH COUNTY GA DISTRICT 2 VOTERS –
For those of us in Forsyth County GA who follow local politics, it was exciting to hear that a local businessman has announced that he will be running against incumbent District 2 commissioner Brian Tam for a seat on the Forsyth County Commission Board in the upcoming Republican primary to be held on May 24th.
Like many of us, Rick Swope is concerned about the overdevelopment and unfettered growth of the county which has resulted in significant school overcrowding and traffic related issues.
One of current concerns of many in our area is the fact that infrastructure improvements are not keeping pace with residential development.  Like me and many others, Rick Swope is not against growth in our county, but for "intelligent growth" and more developmental control.
I know Rick personally and trust him, unequivocally, to be a man of his word.  For district 2 voters looking for a leader who can "walk the talk", Rick Swope is the candidate of choice!
For more information about Rick Swope, or to support his campaign, please check out the Rick Swope for South Forsyth website.