Just when you think you've seen it all…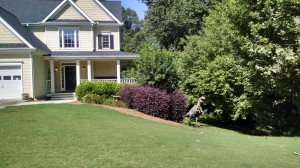 I have been a real estate agent for more years than I usually care to broadcast (let's just say that in my first card photo I had REALLY big hair…), but while showing real estate today in north Forsyth County near Cumming, GA  I came across something I can honestly say I've never seen before.
I first caught sight of it out of the corner of my eye as I was pulling in front of the home I was about to show….. Do I hit the gas and try to escape or back up and check it out??? Of course I had to back up and check it out because what my brain told me I was seeing was the same thing that my brain was telling me was crazy…!
Yep, a full size dinosaur hiding in the side yard.  My first thought… "T-Rex"… but, my client's son quickly corrected me (thank you, Tyler!). For those unschooled in paleontology… this is actually a velociraptor –  a predator with a retractable claw on each foot and a mouth full of sharp teeth (how welcoming!).
Now, you have to understand….this no cute kid's blow up dinosaur, it was a HUGE realistically ugly dinosaur that really did not warm the hearts of the sweet family I was working with.  We all got a great laugh out of it… and  a few selfies… but it sort of freaked us all out too…  Later, while looking back over the listing sheets as we cooled off with an icy drink and some shade, we laughed when we read that one?   The basement was finished???  Did we even see it?  We were all so distracted by "Barney" that we registered virtually nothing else about the house!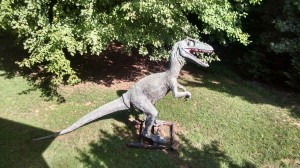 Bizarre, right?  You put your home on the market and the first thing you think is … "I know.. a giant, scary dinosaur hiding in the side yard is just what we need to bring in the buyers."
I'm not sure that the seller's real estate agent saw any problem with the owner's "yard art' because when she texted me later in the day to request feedback she actually used the dinosaur in the yard as part of her description… what??????
Is this a new marketing tool I should know about?  Did I miss a memo?  Is the house memorable.. yes!  But… for all of the wrong reasons.
I hate to see sellers make this kind of mistake because it costs them time and money.  Anything that distracts a buyer from seeing (and remembering) the special features of your home needs to go.  I think that the seller's real estate agent needs to force their hand on this little bit of "fun", before they miss out on the summer market completely.
I truly love my job and I love that every day is different… but, I can honestly say on days like today… you just can't make this stuff up! 🙂
This South Forsyth Real Estate blog is hosted by Gayle Barton of BERKSHIRE HATHAWAY Georgia Properties
Please feel free to call (866-413-1781) or drop me an email if I can provide you with more information about this article or if I can assist you with buying or selling your Cumming GA real estate.
Cell: (706) 455-0180  ~  Office (678) 456- 8066   ~   Email:  gaylebarton@inbox.com
Disclaimer: Information contained in this post is deemed reliable on the date of publication, but it is not guaranteed and it is subject to change without notice.  All content, including text, original art, photographs and images, is the exclusive property of Gayle Barton and may not be used without the expressed written permission.
Gayle Barton – South Forsyth Real Estate | Cumming GA Real Estate
Gayle Barton – Cumming GA Real Estate | South Forsyth Real Estate