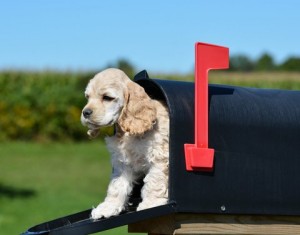 Did you know that traditional mailboxes are a thing of the past in new home subdivisions?   We are certainly seeing this proved out in the busy Forsyth County real estate market.
Due to a policy change made by the US Postal Service in an effort to cut costs, new home buyers  will no longer have the convenience of a driveway mailbox, but will be forced to visit a mailbox cluster similar to those found in apartment complexes.  While this may not be an issue for many, it may actually keep an elderly or handicapped homebuyer from choosing to purchase a new construction home.
This change of policy has also caused problems for many new home communities in the Forsyth County GA real estate market whose initial layouts did not include designated greenspace or development costs for a mailbox kiosk.  This may sound minor, but setting aside buildable land is a major expense and depending on the quality of the kiosk(s) itself, the cost can easily run into the 10's of thousands of dollars.  If the builder refuses to comply, and simply installs traditional mailboxes, the Postal Service will refuse to deliver mail to the neighborhood.
Recent studies have shown that homeowners place a high value on maintaining door-to-door or curbside delivery, but the costs are high… it costs the Postal Service $335 per household to deliver mail door-to-door, $224 per household for curbside delivery but only $160 per household in a cluster scenario. Of course, advocates also mention the reduction in fuel use and emissions.
At one point the USPS considered doing away with Saturday delivery, but Congress (at the behest of the voters….) refused to approve the change.   However, converting to centralized boxes is considered a policy change the Postal Service can make without congressional approval so you should consider it a "done deal".
This Cumming GA Real Estate blog is hosted by Gayle Barton of BERKSHIRE HATHAWAY Georgia Properties.
Thinking of selling your home? I have a passion for Real Estate and love to share my marketing expertise!
I specialize in Real Estate sales in the following Forsyth, North Fulton and West Gwinnett cities: Cumming, Suwanee, Johns Creek, Alpharetta, Duluth, Sugar Hill, Milton, and Roswell.
Please feel free to call or text me at 706-455-0180 (or drop me an email) if I can provide you with more information about this article, or if I can assist you with buying or selling your South Forsyth County real estate.
Cell: (706) 455-0180 ~ Office: 770-844-8484 ~ Email: gaylebarton@inbox.com
Blog Topics: USPS rule, US postal service rule,  no traditional private mail box, new construction, cluster mailbox
Disclaimer: Information contained in this post is deemed reliable on the date of publication, but it is not guaranteed and it is subject to change without notice. All content, including text, original art, photographs and images, is the exclusive property of Gayle Barton and may not be used without expressed written permission.
Cumming GA Real Estate information provided by blog is hosted by Gayle Barton of BERKSHIRE HATHAWAY Georgia Properties.
Gayle Barton – South Forsyth Real Estate | Cumming GA Real Estate
Gayle Barton – South Forsyth Real Estate | Cumming GA Real Estate