Have you ever wished that you could update your plain garage doors?
We tackled that project this weekend on ours with amazing results!  With pre-packaged hardware that we purchased at Home Depot my husband was able to transform the plain, but functional, garage doors on our South Forsyth County home into attractive carriage doors.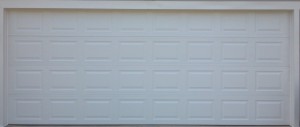 This is what we started with – a huge expanse of white… not bad, just a little too plain for a girl who likes her bling. 🙂
I love the results, and I am so thankful that a friend mentioned this technique to me.
We have a three car garage so the project did take the majority of the day, but I feel that the effort was well worth while and I love driving up to our home every day and enjoying the change.
As a Forsyth County real estate agent, I also know that this will add value to our home when we get ready to sell.  I often have real estate clients ask me what type of DIY projects they can do to upgrade their home, and I believe this is a great one to choose.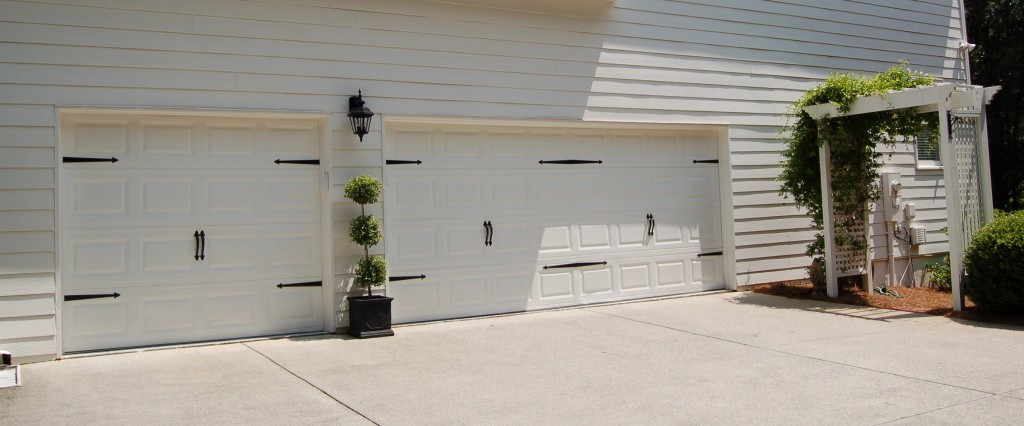 I made the huge mistake of not taking a good "before" photo so I am stuck with a just a stock photo and now I'm sorry!  But, you can still see what a major impact this project made to our curb appeal.
If you decide to try this DIY project, I'd love to see your before and after photos, so please send them my way.  If you have questions about which easy DIY projects will add value to your home, or if you have Forsyth County real estate you'd like to sell, don't hesitate to drop me an email or give me a call.  I'd love to talk to you!
Thinking of selling your home? I have a passion for Real Estate and love to share my marketing expertise!
I specialize in Real Estate sales in the following Forsyth, North Fulton and West Gwinnett cities: Cumming, Suwanee, Johns Creek, Alpharetta, Duluth, Sugar Hill, Milton, and Roswell.
Please feel free to call or text me at 706-455-0180 (or drop me an email) if I can provide you with more information about this article, or if I can assist you with buying or selling your South Forsyth County real estate.
Cell: (706) 455-0180  ~ Email: gaylebarton@inbox.com
Blog Topics: update plain garage door, easy diy project, update garage doors,what can I do to update my garage doors, how can I update my garage doors,  what can I do to make my garage doors look better,garage door, dyi, easy diy,DIY,easy DIY,curb appeal,carriage door, garage door hardware,change my garage door, garage door, garage doors,facelift, face lift,look better,existing garage door,fix up my, retrofit
Disclaimer: Information contained in this post is deemed reliable on the date of publication, but it is not guaranteed and it is subject to change without notice. All content, including text, original art, photographs and images, is the exclusive property of Gayle Barton and may not be used without expressed written permission.
Cumming GA Real Estate information provided by blog is hosted by Gayle Barton of BERKSHIRE HATHAWAY Georgia Properties.
Gayle Barton – South Forsyth Real Estate | Cumming GA Real Estate
Gayle Barton – South Forsyth Real Estate | Cumming GA Real Estate