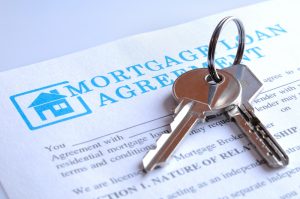 It usually takes at least some digging to come up with relevant news for Forsyth County GA real estate watchers. Last week provided an exception.
The boldest headlines, cable TV info crawls, and email announcements dealt with the unexpected move in mortgage interest rates. The welcome news for Forsyth County GA home sellers and prospective buyers came with Freddie Mac's midweek announcement that the benchmark 30-year mortgage rate had fallen to 3.97% "for the first time since November."
Beneath the "Mortgage Rates Tumble Below 4 Percent" headline, the quasi-government site elaborated on the importance of the move. The drop had pierced "the psychologically important 4 percent level." Freddie doesn't usually delve into psychology, but in this case, it was well warranted. Locally, Forsyth County GA mortgage interest rates had been expected to trace a slow but steady rise, paralleling the Federal Reserve's announced intention to nudge bank borrowing rates upward. Last month, after the Fed did exactly that, Forsyth County GA mortgage interest rates behaved as expected, tiptoeing upward.
Of course, since higher lending rates mean buyers experience higher monthly payments, that could presage less real estate activity. But since the Fed was expected to continue with two or three more Fed funds rate hikes in 2017, the opposite had been expected. More likely, prospective homebuyers would appreciate that the 4+% rates were still lower than average—and want to take advantage of them before they moved higher.
And in fact, by Friday the NAR's Realtor® website could confirm that U.S. "Existing-Home Sales Jumped 4.4% in March." The spring selling season was off to a robust start, chalking up the strongest month of sales in a decade. That was all well and fine, but how to explain the drop in mortgage interest rates?
Some informed opinions had it that world financial markets were queasy about an election in France, so capital was seeking safety (real estate lending fits the bill). When lenders have lots of investors sending cash into their coffers, rates get competitive. Others saw signs that the Fed might once again fail to follow through on future rate hike promises.
As for the most important takeaway—namely, what should local buyers and sellers expect for the immediate future of mortgage interest rates in Forsyth County GA, prognosticators were saying things like, "it's important not to over-interpret" the latest news. Translation: "It's anyone's guess."
One thing that is certain: we're again seeing absolutely terrific Forsyth County mortgage interest rates!
For potential buyers and sellers who choose to take advantage of that window, the way to get started is as easy as giving me a call!
This Cumming GA Real Estate blog is hosted by Gayle Barton of BERKSHIRE HATHAWAY HomeServices Georgia Properties.
I specialize in Real Estate sales in the following Forsyth County, North Fulton County and East Cobb cities: Cumming, Suwanee, Johns Creek, Alpharetta, Duluth, Milton, and Roswell. Other areas are serviced by request.
Gayle Barton South Forsyth Real Estate | Cumming GA Real Estate
Gayle Barton Cumming GA Real Estate | South Forsyth Real Estate