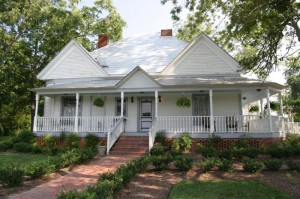 I have found a great lunch spot in Cumming, GA (or dinner for that matter). Heck, it was so good that we might even head back over for the Sunday Brunch!
I tried The Foster House for the first time last Friday.  A friend had a Groupon so we decided to check it out and WOW, what a treat!
It's TRUE Southern cooking so you better order sweet tea to wash it down!
I had the roast beef (cuts like butter), onion casserole and mashed potatoes. My friend had the same with cornbread dressing which she said tasted "just like her moms…"
I liked it so much that I took my family back on Saturday for dinner (try the parmesan crusted chicken breast), and they are already trying to plan our next visit.
The big, white farmhouse sets the perfect tone for a down home country meal served in a elegant (but casual) atmosphere so, without a doubt,  I have found my new FAVORITE RESTAURANT in Cumming, GA.
If you have not tried it yet, I recommend that you do… but only when you are really hungry.
The Foster House
305 West Main Street
Cumming, GA 30040
770-887-9905





Please feel free to call (866-413-1781) or drop me an email if I can provide you with more information about this blog post or if I can assist you with buying or selling your Cumming GA real estate.
This South Forsyth Real Estate blog is hosted by Gayle Barton of ERA – The Real Estate Connection.
Cell: (706) 455-0180 ~ Office (678) 456-8066 ~ Email: gaylebarton@inbox.com